After creating your CoolWorks account, you will need to confirm your email address for security purposes in order to log in. You will receive an email from "mailman@coolworks.com" with the subject "CoolWorks Account Confirmation." This email will ask you to activate your account by clicking on the "Confirm my account" link.

You will initially have access to your account. However, if you do not confirm the email address within 48 hours, you will be locked out and a new confirmation e-mail will need to be sent.
If you cannot find the original confirmation email, you can go to the
login page
and choose the "
Resend Confirmation Email
" link. If that still doesn't find its way to your inbox, be sure to check your Spam / Junk Mail folders. Additionally, you can try searching All Mail folders for "mailman@coolworks.com" to search all folders (Spam, Junk, Trash, etc.).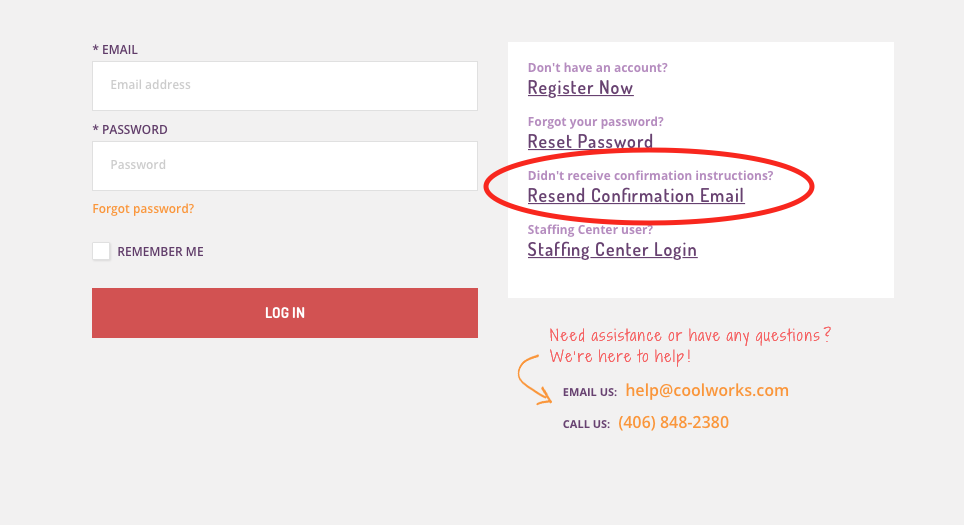 Adding "mailman@coolworks.com" to your approved senders list
If after following the steps above you're still having difficulties confirming your e-mail address, you may need to add
mailman@coolworks.com
to your list of approved senders, or whitelist. The following links provides steps to adding an address to your whitelist for a few popular email clients.
Gmail
- For Gmail users, adding an address to your Contacts functions the same as whitelisting